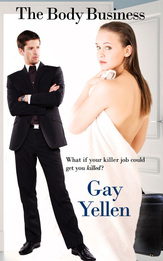 About Gay Yellen
My mother says that I wrote my first poem before the age of two.
Prose came later.
I started my working life as an actress in theatre, film, and TV commercials. Then I
moved behind the camera to be the Assistant to the Director of Production
at The American Film Institute.
My professional writing career began in journalism, as the managing editor
of a national tennis magazine. I moved on to a large city magazine, where a series
of my articles earned a national award for distinguished journalistic coverage.
I also
served as the contributing book editor for
Five Minutes to Midnight
(Delacorte Press), an international thriller.
For the next decade and a half, my writing took a technical turn. As VP of advertising,
media
and
client communications at a national financial marketing firm, I tried my best to turn the mysteries
of
insurance product lingo into language plain folks could understand.
The Body Business
is my debut suspense novel, available February 26, 2014.
For more, visit these pages, or
on Facebook:
http://www.facebook.com/gayyellenauthor
---
Q&A with GAY
Q. A lot of people are interested in the process of writing a novel. How long did it take you to write The Body Business?A.
That's a tricky question. The first draft took almost a year. I had just finished it when my husband asked me to
come up to his office one afternoon to advise him on some advertising he was running that wasn't as effective as it should
have been. That afternoon morphed into a full-time job running all the media and client communications for his direct marketing
company. So the book draft went into a drawer and stayed there until we sold the company fifteen years later.
Q. After all that time, how long did it take to get it published?A.
When I pulled the manuscript out of the drawer and reread it fifteen years later, the first problem was that technology had
changed, which affected some crucial events in the story. I updated and did some rewriting, then I joined a critique circle to get
professional feedback. That process took another year. Once I had a solid manuscript, it took another year to find a publisher, and
about eight months from contract to book release.
Q. Are you working on another book now?A.
Yes. There's a sequel to
The Body Business
, and one or two more in the series after that. And a historical novel I want to write. There's
also a book of silly verse for children that I'd love to get published. So many stories, so little time!
Want to ask Gay a question? Visit her Contact Page.